Thankful for a good year, and Gifts from Mozambique!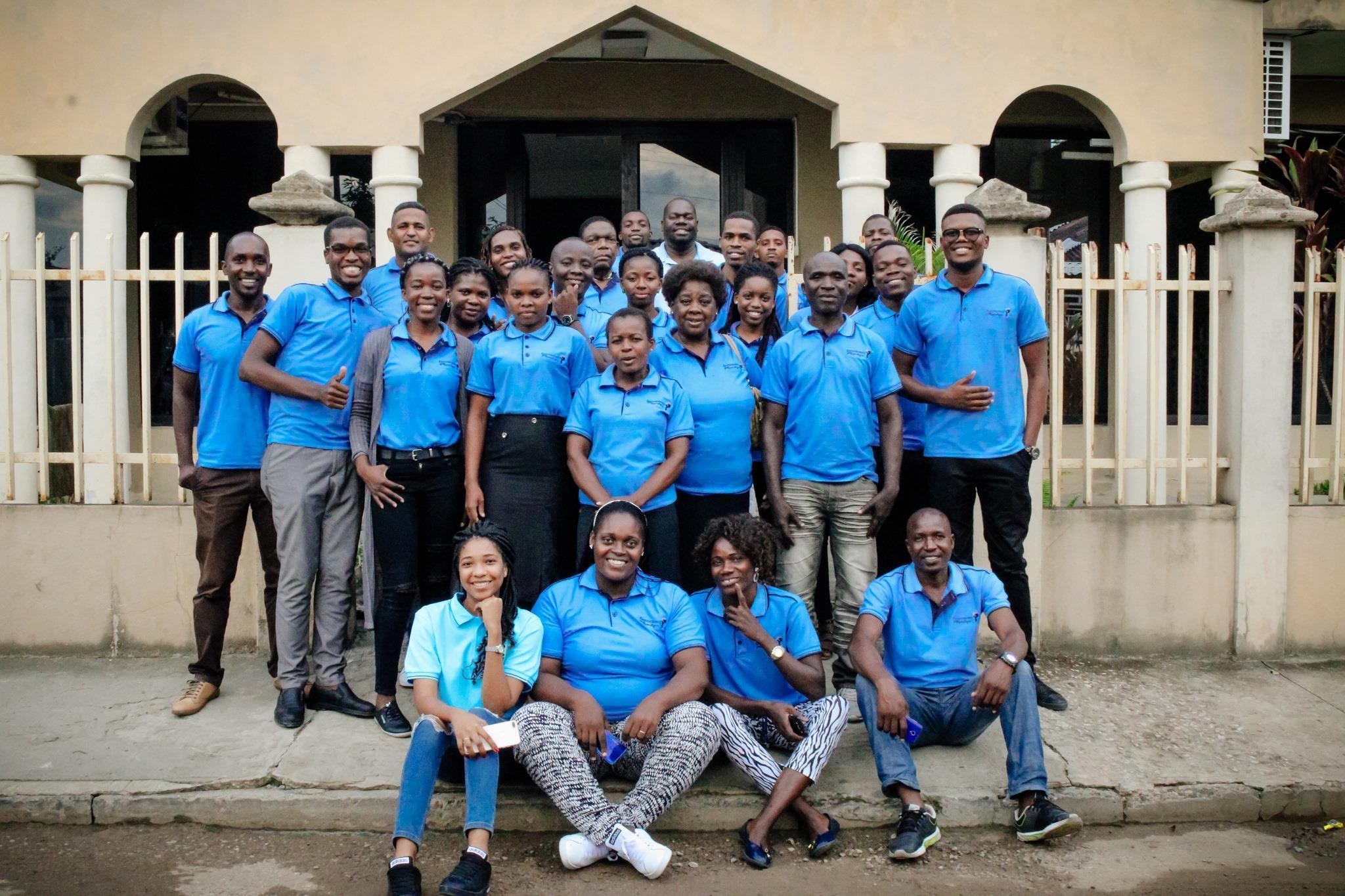 Happy Thanksgiving! 
We hope this email finds you full of reasons to be thankful!
As we look back on 2021, we are thankful for so many things:
Thankful for our Leadership Team
Top: Bernardo Magira, national director; Nora Binda, sewing school director
Bottom: Delfina Magira, head of HR; Belo Chimunthu, head of tech team
When we left Mozambique in February, we had confidence that the national leadership team would be able to keep everything running smoothly for our planned 3-month absence. Then we hit visa problems and couldn't go back, and the team stepped up and spent the entire year effectively leading the organization and starting new projects, and the whole team thrived!
Thankful for Successful Projects
As we seek to establish Systems of Shalom, some of this year's projects included:
Empowering Mozambican farmers with a creative cell phone system to connect them to the global economy
Deeply developing one entire village with literacy, agriculture, reforestation, church reconstruction, and much more! 
Hosting #HACK, an international "hackathon" for innovative solutions to prevalent problems, with one project that won a prestigious award
Launching a new app to educate people about the law so they can know their rights and avoid exploitation 
Growing our impact in health systems with innovative solutions to prevalent problems
Thankful for Jon's Visit to Moz
While we were still waiting on our residency visas, Jon was able to get a 30-day temporary visa to go back and check on the team. He was able to help them finish up some reports for our grants, participate in the #HACK hackathon, and even scout out some possibilities to launch a satellite branch in Zimbabwe, the country next door!
Thankful for New Partnerships
During our time in the States, we were able to visit many existing partners and meet several new ones! Some of these partnerships will be instrumental in launching our new Innovation Center, coming 2022!
We sent out our end-of-year print newsletter this month! If you did not get one in the mail, you can read it here. It has:
How we brought deep and lasting transformation to the village of Nhangoma
More details about the farmer empowerment system
An interview with one of our tech team members
More about the new and upcoming Innovation Center
And much more!
Purchase Gifts from the Sewing School!
Jon was able to bring back lots of new products from the sewing school to the States! We launched many of these new treasures TODAY, Cyber Monday, along with a 15% discount on everything in our store AND free shipping on orders over $35! So take a look for one-of-a-kind, handmade gifts!
Think of it as the gift that gives twice!
1. Someone you love gets a unique and beautiful present
2. A woman in Mozambique has her life transformed 
Giving Tuesday is tomorrow! So if you are:
Interested in helping raise up national leaders to tackle the greatest problems of society
Wanting to see God's Kingdom come on earth as it is in heaven in creative ways
Looking for somewhere to donate your end-of-year tax breaks
Please consider a donation to Equip Mozambique! As a small, efficient organization we can guarantee that every donation is translated into maximum impact with minimal overhead. 
Praise Reports:
For our amazing team who were empowered to keep going in spite of all the unexpected setbacks.
For a successful year, filled with challenges but favor.
For us finally having all the necessary paperwork done in order to apply for our visas! We started this process in February, and only now in November do we have everything we need! 
That we were able to celebrate Thanksgiving with family for the first time in many years! 
Prayer Requests:
We are very close to getting our visas, but now the "omicron" variant of covid-19 might make travel back to Mozambique difficult since most airlines are shutting down their flights. Please pray that we will be able to get home as soon as our visa process is done!
Please pray for our team to continue to thrive. 
Please pray for doors to open for our new Innovation Center to be established, as it has tremendous potential to turn many lives around.
Thanks for reading, please remember us in your prayers! 
| | |
| --- | --- |
| If you would like to subscribe to receive more newsletters from Equip Mozambique in the future, sign up here:  | |